LOVE @ FIRST SIGHT
2019
OKETA COLLECTION: LOVE @ FIRST SIGHT
メッセージ
この展覧会は、桶田俊二・聖子夫妻の現代美術コレクションを、初めて一般公開するものです。
骨董のコレクションからスタートし、草間彌生の作品との出会いをきっかけに、現代美術に魅せられた桶田夫妻。国内外の名だたるギャラリーやアートフェアを巡る二人が「一目惚れ(Love at First Sight)」した作品たちは、アーティストの本質が表現された名作ぞろいであり、最先端のトレンドをとらえ、時代を反映したユニークなコレクションとなっています。
今回はその中から、約20点を選りすぐり展示いたします。現代美術コレクションの出発点となった草間彌生に始まり、世界で活躍する村上隆と空山基、ファッションのフィールドで大きな影響力を持つヴァージル・アブローの新作など、今、桶田夫妻が最も刺激を受け、注目する15名のアーティストの作品です。
アメリカのトレンドを牽引するジョージ・コンド、トッド・ジェームス、エリック・パーカー、ジョイス・ペンサト、ジョナス・ウッドの作品はそれぞれの特徴が際立ち、ペインティングを観る楽しみを与えてくれます。サブカルチャーやストリートの空気と親和するダニエル・アーシャム、五木田智央、KAWS、MADSAKI、Mr.、デジタルコラージュを絵画にした佃弘樹の作品は、まさに「今」を感じさせてくれるでしょう。
「アートの楽しさに触れてほしい。コレクターの愉しみをシェアしたい」という桶田夫妻とともに、作品と出会い、自分のお気に入りをみつける喜びを分かち合う機会となれば幸いです。
2019年4月
キュレーター 児島やよい
Oketa Collection: Love @ First Sight
Message from the Curator
Love @ First Sight is the first public exhibition of the contemporary art collection of married couple Shunji and Asako Oketa.
The Oketas started out collecting antiques but became interested in contemporary art after seeing the works of Yayoi Kusama. Comprised of works that the pair had a "love at first sight" reaction to during their visits to major art galleries and art fairs in Japan and around the world, the Oketa Collection is a selection of quintessential works by a wide range of major artists that also incorporates the latest art trends in a unique reflection of the times.
Love @ First Sight is a selection of 19 pieces from the Oketa Collection. The exhibition includes works by the 15 artists who inspired the Oketas the most, including Yayoi Kusama, the person who motivated the Oketas to become involved in contemporary art, the internationally recognized Takashi Murakami and Hajime Sorayama, and the latest works from Virgil Abloh, an influential figure in the world of fashion. The exhibition also features works by highly remarkable artists of today such as George Condo, Todd James, Erick Parker, Joyce Pensato and Jonas Wood, whose styles are contrasted in a way that makes viewing a pleasure. In addition, pieces by such subculture and street culture exponents as Daniel Arsham, Tomoo Gokita, KAWS, MADSAKI and Mr., along with Hiroki Tsukuda's digital collage painting, are guaranteed to give viewers a sense of "now".
The Oketas want to share their passion for art collecting and hope that visitors to Love @ First Sight will see how much fun art can be. It is my hope that seeing the Oketas and their collection will enable audiences to share the joy the couple derives from picking out their favorite artworks.
April 2019
Yayoi Kojima, Curator, Love @ First Sight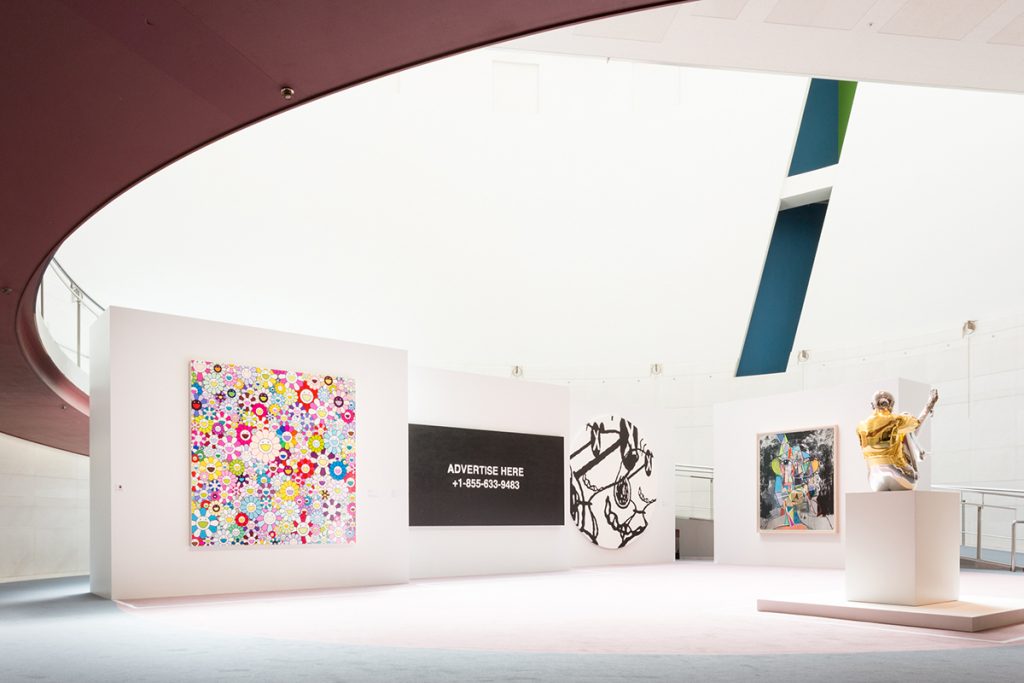 「Oketa Collection: Love @ First Sight」展示風景(スパイラルガーデン、2019年)
photo: Daisaku OOZU
<展覧会概要>
| | |
| --- | --- |
| 展覧会名 | 「OKETA COLLECTION: LOVE @ FIRST SIGHT」展 |
| 会場  | スパイラルガーデン(東京都港区南青山5-6-23 スパイラル1F) |
| 会期 | 2019年4月17日(水)〜4月27日(土) <休館日なし> |
| 開館時間  | 11:00-20:00 |
| 入場料 | 無料 |
| 主催 | OKETA COLLECTION |
| キュレーター | 児島やよい |
<出展アーティスト> *15名、アルファベット順
ヴァージル・アブロー、ダニエル・アーシャム、ジョージ・コンド、五木田 智央、トッド・ジェームス、カウズ、草間 彌生、MADSAKI、ミスター、村上 隆、エリック・パーカー、ジョイス・ペンサト、空山 基、佃 弘樹、ジョナス・ウッド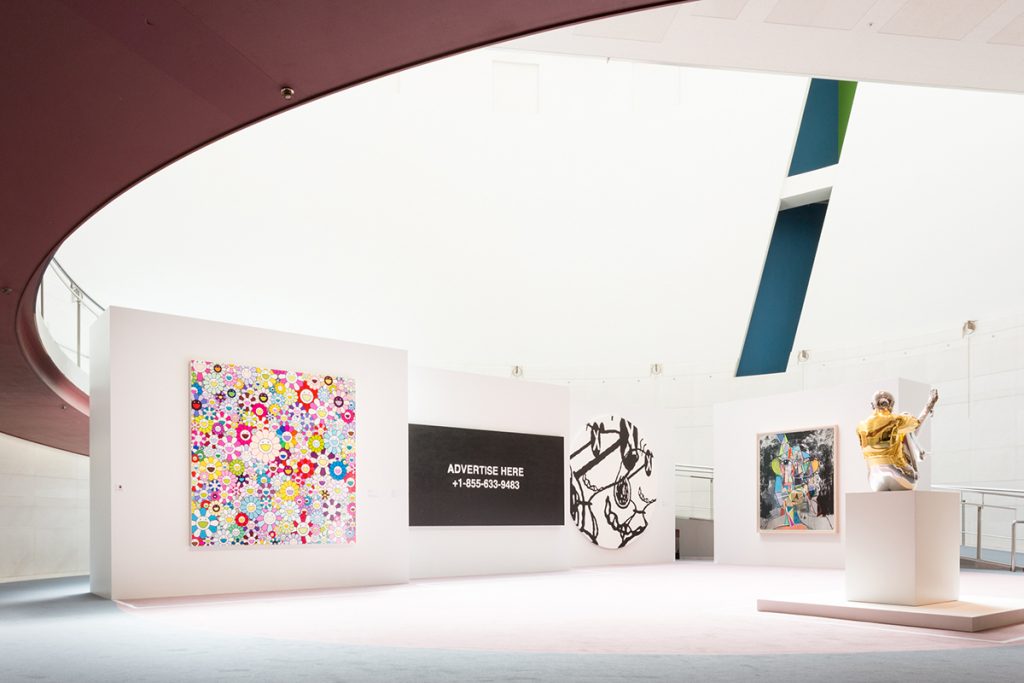 Installation view: "Oketa Collection: Love @ First Sight" at the Spiral Garden, 2019
photo: Daisaku OOZU
<Exhibition Overview>
Exhibition
OKETA COLLECTION : LOVE @ FIRST SIGHT
Venue
Spiral Garden (Spiral 1F)
5-6-23 Minamiaoyama, Minato-ku, Tokyo
Dates
Wednesday 17 April 2019 ~ Saturday 27 April 2019
Opening Hours
11:00-20:00
Admission
Free
Organized by
OKETA COLLECTION
Curated by
Yayoi Kojima
<Artists>
VIRGIL ABL OH / DANIEL ARSHAM / GEORGE CONDO / TOMOO GOKITA / TODD JAMES / KAWS / YAYOI KUSAMA / MADSAKI / MR. / TAKASHI MURAKAMI / ERICK PARKER / JOYCE PENSATO / HAJIME SORAYAMA / HIROKI TSUKUDA / JONAS WOOD